I do have other interests, I promise.
Last week a good friend asked me to help her find a leather writing pad/portfolio to take on an upcoming job interview. At first I laughed and thought it was almost too easy of a question. Aren't those things everywhere? Turns out, not so much. (Well, unless you're big on pleather.)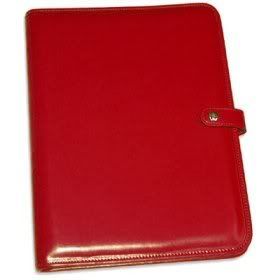 Now, there are two ways to look at this purchase. If you're planning on throwing the portfolio into your bag or briefcase, then it should probably be simple and slim. I like the color choices of
this pad
by Jack Georges and at $89.00 it's not too expensive.
This pad
is slightly pricier, but Lodis has fantastic leather. And again, the colors are just so fabulous. This
Rawlings pad
is still on the slimmer side, but the pebbly leather is divine.
If the portfolio is your statement pieces. - The piece de resistance of your outfit, then you need to think bigger. I tend to prefer this route when I'm trying to make a clean, professional impression. (No one needs to see me dig through my giant purse in search of a pen only to have lipstick, glasses, receipts, etc fall to the floor.)
This Pad
by Osgoode is my current favorite. It's slim enough to maybe slide into a large shoulder bag, but still stylish enough to stand on it's one. Since it's slightly larger than the other choices, just throw this beauty under your arm and walk through the door with style. I love it.