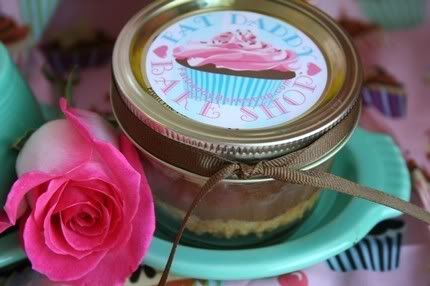 Since the flu is still running my life at the moment, I'll make this short and sweet.
Usually, when I'm feeling under the weather, all I want is sweets. Seriously, the more chocolate the better. It seemed like the perfect excuse to try one of the cupcakes in a Jar from
Fat Daddy Bake Shop.
Now, I love pretty much everything a cupcake has to offer, but these seem like a special treat. I adore the little jar. It reminds me of the cookie mix in a jar we used to make as Holiday gifts when I was a kid, only 100x better! I can't wait to give them a try.
Plus, they have ridiculous fun names like "Captain Carrot cake", "Banana Butterscotch Bad Boys", and "Smooth Criminal". It gets even better when you read the descriptions:
This listing is for 1 half pint, 8oz jar of SMOOTH CRIMINAL cupcake.A Chocolaty, toffee-licious cupcake that's so moist, so scrumptious, so SMOOTH, it aught to be CRIMINAL!
They're a little pricey at $6.50 per cupcake, but I'll let you know if it's worth it!