Alright, I went for it.
I'm now the proud owner of a flame colored LC saute pan. I'm excited. It's my first LC purchase - even though I've been using their products for years.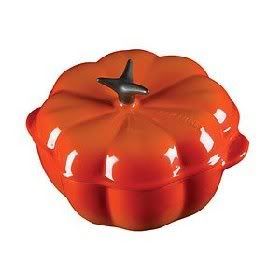 I also may have picked up 4 of these adorable
Petite Pumpkin Casseroles
. I'm thinking they will be a cute accessory during our Thanksgiving dinner this year. I did end up paying $9 more for my pan through amazon, but they're giving me this adorable
Blueberry Casserole
since I spent over $99.
Love it!